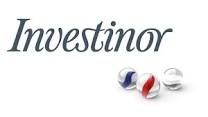 Investinor invests MNOK 3.5 in Oslo based Fronteer Solutions, a fintech startup that offers tech based equity fund management.
Fronteer Solutions recently launched its first equity fund where security selection and risk management is entrusted to a powerful machine. With the help of computing power and advanced mathematics, Fronteer provides smart portfolio solutions based on predetermined investment criteria.
The solution is described as «thousand analysts in a box», but without human psychology coming into play.
​«Our vision is to make smart savings- and investment solutions available to all in a simple and safe way, and at a reasonable price. Fronteer shall be at the forefront of developments in science-based asset management and offer best-of-breed products. With the launch of our first fund, we have taken an important step towards providing our solutions to the retail market», says CEO Atle Christiansen.
Smart and long-term
«Fronteer's approach is rooted in decades of financial research and contributions from several Nobel Prize-winning economists. Our solution is not, however, to automate short-term trading strategies or to be faster than everyone else. Put simply, we have built a powerful technology to make long-term investments smarter and at a lower risk. You may call it thousand analysts in a box», says Christiansen.
Fronteer's computing machine has analyzed more than 7,000 stocks across 46 developed and emerging markets. Based on well-known investment criteria, the machine selects the best stocks and combines these in a portfolio. The machine continuously analyzes vast amounts of data to monitor market opportunities and risks.
Norway's Government Pension Fund Global, the world's biggest sovereign wealth fond, applies many of the same principles in its asset management.
Experienced team
Fronteer comprises a multi-disciplinary team with background from the start-up success Point Carbon, the Norwegian Government's Soverign Wealth Fund and academics from the Norwegian University of Science and Technology (NTNU).
From it's base at StartupLab in Oslo, the company has caught the attention of reputable and experienced investors. ​Among its owners are Investinor, Founders Fund, Martin Skancke and Åge Korsvold.
Skancke was formerly Director General at the Norwegian Ministry of Finance with responsibility for the development of the Norwegian Petroleum Fund's strategy. Korsvold, previously CEO of Storebrand, Orkla and Kistefos, is the company's Chairman.
«The finance industry is in an unprecedented era of digital innovation and disruption. Financial technology is internationally one the hottest growth areas. We believe the market is ripe for the solutions offered by Fronteer. The way that large parts of the asset management industry thinks and acts has not changed much during the last 50 years. We believe in the vision, the technology and the people behind Fronteer. It is exciting that a Norwegian player leads the way and acts as a challenger in this market», says Investment Director Jon Øyvind Eriksen at Investinor.
Fronteer's first product is a global equity fund aimed at professional investors.