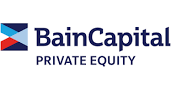 BOSTON – July 5, 2023 – Bain Capital Credit today announced that the firm's Private Credit Group acted as sole lender and administrative agent for a senior credit facility to support Audax Private Equity's strategic investment in Congress Wealth Management ("Congress"), an independent registered investment advisor offering wealth management and investment advisory services to high-net-worth individuals and families in the U.S.  Terms of the credit facility were not disclosed.
Headquartered in Boston and founded in 2009, Congress provides innovative and tailored wealth management and financial planning solutions for high-net-worth ("HNW") individuals, foundations and endowments, and family offices.  The firm has experienced strong growth in recent years through new client acquisition and M&A.  With over $5 billion of assets under management today, Congress serves approximately 2,300 HNW and family office clients out of seven offices across the U.S.
"Congress is a high-quality RIA firm with a differentiated platform and unique value proposition, and we believe the business is well-positioned to capitalize on attractive growth opportunities in today's diverse, fragmented wealth management market," said June Huang, a Director at Bain Capital Credit.  "We appreciate the rapport we have built with the Audax team over the years and look forward to a successful continued partnership as we support their plans for Congress' next chapter of growth and value creation."
###
About Bain Capital Credit, L.P.
Bain Capital Credit (www.baincapitalcredit.com) is a leading global credit specialist with approximately $43 billion in assets under management. Bain Capital Credit invests across the credit spectrum and in credit-related strategies, including leveraged loans, high-yield bonds, structured products, private middle market loans and bespoke capital solutions. Our team of more than 95 investment professionals creates value through rigorous, independent analysis of thousands of corporate issuers around the world. Bain Capital Credit's dedicated Private Credit Group focuses on providing complete financing solutions to businesses with EBITDA between $10 million and $150 million located in North America, Europe and Asia Pacific.  In addition to credit, Bain Capital invests across asset classes including private equity, public equity, venture capital and real estate, and leverages the firm's shared platform to capture opportunities in strategic areas of focus.