Nordic Capital to support growth acceleration and European expansion
Nordic Capital has entered into an agreement to acquire Autocirc, a leader in the automotive aftermarket with a circular business model built on a closed-loop eco-system for reused and recycled automotive original spare parts, from the Nordic sustainable investment fund Alder. The investment is made in partnership with Autocirc's founders Johan Livered and Mattias Pettersson and aims to accelerate the company's growth plans and further strengthen its circular offering with a mission to significantly reduce CO2 emissions in the automotive aftermarket industry.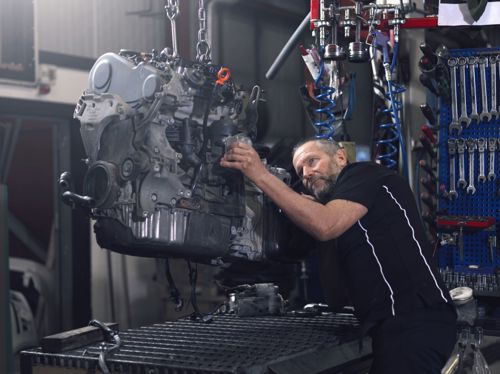 Autocirc is a fast-growing and profitable leader in the automotive aftermarket industry, offering high-quality reused original spare parts to insurers, workshops and car owners. Extending the lifecycle of auto parts significantly reduces costs for insurers and end-customers while at the same time contributing to significant climate savings by lowering carbon emissions with up to 75 percent. The European demand for spare parts is high, and Autocirc's business model reuses more car parts and revives leftover materials with a clear benefit to the environment. Autocirc is based in Borås, Sweden, and has seen rapid growth supported by 37 acquisitions since inception and has c. 570 employees. The company's turnover is c. SEK 1.2 bn as of September 2022 and is present in Sweden, Norway, Finland and the UK.
Nordic Capital invests in Autocirc alongside the founders Johan Livered and Mattias Pettersson and management team, to support the company in the next phase of its growth journey to create increasing circular effects at a growing scale. Nordic Capital is an active owner with deep experience in growing industrial and business services companies, and the acquisition of Autocirc follows the well-proven strategy of supporting leading companies through growth acceleration.
Joakim Andreasson, Managing Director, Nordic Capital Advisors, says: "Autocirc is a green pioneer in the automotive aftermarket industry, offering sustainable aftermarket services that significantly reduces emissions and climate impact while providing exceptional value to its customers. We have followed Autocirc for a long time and are very impressed by the founders and the management team who have built a very strong platform with great potential for further expansion in existing and new geographies. Autocirc fits perfectly into Nordic Capital's strategy to build sustainable, first-class companies with great growth potential, and we look forward to supporting Autocirc with expertise, resources and broad external network".
Johan Livered, CEO of Autocirc, says: "We are very proud of Autocirc's growth over the past years and we are excited to enter into a partnership with Nordic Capital as one of the leading European private equity investors with strong international reach and an impressive track record of successful growth acceleration in the industrial and business services sectors. We look forward to further accelerating our journey to truly create a sustainable European leader, with great potential in expanding our offering, both in existing and new markets and across the entire value chain. We have had a tremendous development in recent years and look forward to the next chapter together with Nordic Capital".
Completion of the transaction is expected to occur in Q1 2023 and is subject to customary closing conditions, including relevant regulatory approvals.
Media contacts:
Nordic Capital
Katarina Janerud, Communications Manager
Nordic Capital Advisors
Tel: +46 8 440 50 50
e-mail: katarina.janerud@nordiccapital.com
Autocirc
Johan Livered, CEO
Tel: +46 727 164 666
e-mail: johan.livered@autocirc.com
About Nordic Capital
Nordic Capital is a leading private equity investor with a resolute commitment to creating stronger, sustainable businesses through operational improvement and transformative growth. Nordic Capital focuses on selected regions and sectors where it has deep experience and a long history. Focus sectors are Healthcare, Technology & Payments, Financial Services, and selectively, Industrial & Business Services. Key regions are Europe and globally for Healthcare and Technology & Payments investments. Since inception in 1989, Nordic Capital has invested close to EUR 22 billion in 130 investments. The most recent fund is Nordic Capital Fund XI with EUR 9 billion in committed capital, principally provided by international institutional investors such as pension funds. Nordic Capital Advisors have local offices in Sweden, the UK, the US, Germany, Denmark, Finland and Norway. For further information about Nordic Capital, please visit www.nordiccapital.com.
"Nordic Capital" refers to, depending on the context, any, or all, Nordic Capital branded entities, vehicles, structures and associated entities. The general partners and/or delegated portfolio managers of Nordic Capital's entities and vehicles are advised by several non-discretionary sub-advisory entities, any or all of which are referred to as "Nordic Capital Advisors"
About Autocirc
Autocirc is a Nordic group that offers reused and recycled spare parts to the automotive industry. The company's operations are based on the circular economy model where car parts and materials can be used longer, which means a competitive advantage and major positive effects for the environment. Autocirc was founded in 2019 and has since grown significantly both organically and through acquisitions in Northern Europe. The company's turnover is c. SEK 1.2 bn as of September 2022 and has a presence in Sweden, Norway, Finland and the UK. The head office is located in Borås in Sweden and there is a total of c. 570 employees in the group. For further information about Autocirc, please visit autocirc.com