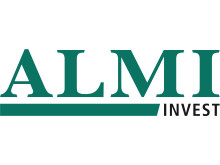 Almi Invest exits from Dapresy and sells its share to Verdane Capital
Press Release • May 17, 2017 16:00 CEST
SaaS company Dapresy has developed its own analytical tool for market research where the results are presented in the form of infographic.
Almi Invest will exit from Dapresy and sells its share to the Nordic Private Equity Fund Verdane Capital IX. Norrköpingsbolaget Dapresy is a global supplier of a software platform for information visualization of market research data. The company has customers around the world and a significant proportion of the world's larger companies use Dapresy. In connection with Almi Invest's divestment, Verdane enters into the new main owner and investor in Dapresy.
Dapresy was founded in 2003 and is a spin-off company from Hermelin Research. In 2010, Dapresy Pro launched on a global market with customers in more than 25 countries. Customers are found in all segments with a focus on larger information-intensive companies that need to communicate market research data to larger organizations. Dapresy has transformed a mature market by allowing modern-time collaborators at all levels of a company to review market research data, tailored individually to the needs of the individual employee, with the aim of supporting more and better business decisions.
-Almi Invest entered the first external investor in 2011. Dapresy has grown steadily and had an annual revenue increase of about 30%. The success of the company is that the team has combined technical excellence with a strong commercial drive on the market side, which made them succeed in gaining global players as loyal customers. With an exit of 5 times invested capital, it enables multiple investments in promising tech startups and contributes to long-term investment activities, says Björn Persson Fund Manager Almi Invest
In 2016, Dapresy had sales of more than 50 million and now has 60 employees. In addition to the head office in Norrköping, Dapresy is represented with local offices in the United States, Great Britain, Canada, Germany and Bosnia. Through partner, the company is represented in Australia and New Zealand.
-Almi Invest and Almi Corporate Partners have been crucial to taking Dapresy where we are today. With Almi Invest as investor and Björn Persson as board member of Dapresy, the company has been able to accelerate growth, expand internationally and create a basic structure for profitable sustained growth. With Verdane as a new strong investor, we are aiming for continued strong growth in Sweden and in our international core markets, "said Torbjörn Andersson, CEO of Dapresy
Contact:
Torbjörn Andersson, CEO, Dapresy, tel: +46 (0) 709 29 94 13, torbjorn.andersson@dapresy.com
Björn Persson, Fund Manager, Almi Invest, tel: + 46 070-2074125, bjorn.persson@almiinvest.se
Maria Kessling, Head of Communications, Almi Invest, tel +46 76-880 88 10 maria.kessling@almiinvest.se
About Almi Invest
Almi Invest is Sweden's most active investor in startups. We make investments throughout the country through 8 regional venture capital companies and a national venture capital company in GreenTech. Almi Invest manages approximately SEK 3 billion and has since invested approximately 600 startups. Our best holdings have been acquired by Google, Microsoft, Qlik and Apple, for example, or listed on different stock exchanges. Almi Invest is a venture capital company within the Almi Group.
About Dapresy
Dapresy provides a highly visual data reporting software for market research and customer experience management. Market research agency and enterprise professionals in more than 25 countries are using Dapresy Pro to deploy visually engaging dashboards to clearly communicate complex data from markets, users and customers. The company's unique dynamic dashboards are individually tailored, deploying the right data to the right people at the right time. For marketers looking to move beyond PowerPoint and Excel, Dapresy is the faster and far more effective way to easily present market research and customer experience information from multiple sources in a way that improves decision making. Founded in 2003, Dapresy has a headquarters in Sweden with a North American headquarters in Portsmouth, NH. The firm has several other client services offices around the globe. www.dapresy.com
About Verdane
Verdane funds help ambitious companies in software, e-commerce, energy and high technology industry with flexible capital for growth. The funds can invest either in individual companies or in several at the same time, so-called portfolio transactions. The latest fund, Verdane Capital IX, has 3 billion kronor to invest in fast-growing companies. Verdane Capital Advisors has 25 employees in offices in Stockholm, Oslo and Helsinki. For more information: www.verdanecapital.com.