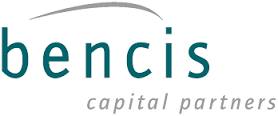 Amsterdam, Brussels, Düsseldorf, 29 March 2023
Bencis Capital Partners B.V. ("Bencis") is pleased to announce the closing of Bencis IV Continuation Fund (the "Continuation Fund") at €123 million.
The Continuation Fund has been led by Committed Advisors SAS ("Committed Advisors"), who structured and priced the transfer of assets from Bencis' existing funds. The Continuation Fund attracted strong support from existing investors alongside several new institutional investors, private investors, family offices, founders and managers of (former) portfolio companies, and the Bencis team.
Bencis identified the opportunity to continue to manage, invest in, and support its portfolio companies in Bencis Buyout Fund IV. The Continuation Fund will provide additional capital to support four portfolio companies from Bencis Fund IV: CurTec, The European Candy Group, Pressure Thermal Dynamics and Prinsen Berning in their further expansion and growth initiatives.
The Continuation Fund will be managed by the same team that has successfully managed Bencis' other funds. The Bencis team will continue to work closely with the management teams of the portfolio companies to identify growth opportunities and provide them with the necessary capital and resources to achieve their goals.
"We recognized the opportunity to create a dedicated fund to help existing portfolio companies continue their growth trajectory beyond the typical holding period and at the same time provide liquidity for existing investors. Therefore, we are excited to announce the closing of the Continuation Fund, which represents a natural extension of our strategy," said Robert Falk, Partner at Bencis.
Alexis Ruiz, Partner at Committed Advisors added: "We are thrilled to partner with Bencis on this new chapter of value creation for these four companies, and to have contributed to providing a liquidity option to existing investors."
Rede Partners served as the exclusive financial advisor for this transaction, from its newly opened Amsterdam office. Bencis was advised by Proskauer Rose LLP and Loyens & Loeff NV. Committed Advisors was advised by Hogan Lovells LLP.