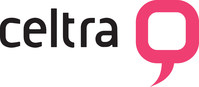 BOSTON, June 21, 2017 /PRNewswire/ — Celtra, the creative management platform for digital advertising, today announced a $15 million investment led by Unilever Ventures and WPP. Unilever and WPP are partnering to use Celtra's market-leading creative technology across Unilever's global marketing organization and its ecosystem of service providers, technology vendors and media suppliers.
Celtra aims to help advertisers maximize their creative potential and use creative as a lever to achieve better results in digital advertising.
"Creative is the conduit for the marketer's message. It should always be on point and carefully refined," said Miha Mikek, Founder and CEO of Celtra. "Celtra's platform helps transform brands, agencies, creative producers and other partners into highly performant, data-driven, effective digital storytellers."
Unilever was among the first global advertisers that recognized the potential of the approach.
"Creative is an increasingly complex challenge for large advertisers and one that is constantly changing due to rapid evolution of media consumption. People deserve advertising that feels native to each medium and delivers emotional value. Celtra helps us deliver that at global scale," said Keith Weed, Chief Marketing Officer at Unilever.
Agencies, as trusted partners and advisers of brands, play a pivotal role in the process and WPP is a key partner in the use of Celtra's Creative Management Platform across Unilever.
"We believe the market is due for a creative management solution that can deliver real-time data driven creative at scale and tailored for every individual, across media channels. Celtra is a leader in this space. This investment is in line with WPP's commitment to technology, data and content, which, along with horizontality, new markets and new media, comprise the Group's four strategic priorities," said Sir Martin Sorrell, Chief Executive Officer at WPP.
About Celtra
Celtra is a Cloud-based Creative Management Platform for digital advertising. They have pioneered HTML5 authoring with integrated creative serving, designed from the start for mobile advertising. It is an agnostic solution enabling the most advanced video, display and native ad products with the greatest distribution reach in the industry. Since 2011, Celtra has acquired over 400 clients globally across the digital media and advertising landscape. Their platform powers ads for more than 3,500 brands and 2/3 of Fortune 500 advertisers.
Celtra is headquartered in Boston, with offices in New York City, San Francisco, London, Ljubljana, Singapore and Sydney. For more information, visit Celtra at www.celtra.com or @CeltraMobile on Twitter.
Media Contact:Cristy GarciaCeltra646-577-4332cristy@celtra.com
About Unilever Ventures
Unilever Ventures is the venture capital and private equity arm of Unilever. They invest in early stage, promising companies, accelerating growth by providing access to Unilever's global ecosystem, assets and expertise. The fund looks to invest in tomorrow's world-beaters in Personal Care and Digital Transformation. Key focus areas within Digital Transformation include content creation, artificial intelligence, data analytics, e-commerce, internet of things, mobile marketing and video, in both developed and emerging markets. Unilever Venture's existing investments include Clavis Insight, Percolate, Blis, Gousto, Instacart, Blow, Nutrafol, Sun Basket, Iluminage Beauty, Froosh, and Voltea. For further information, please visit: www.unileverventures.com
About WPP
WPP is the world's largest communications services group with billings of US$74 billion and revenues of over US$19 billion. Through its operating companies, the Group provides a comprehensive range of advertising and marketing services including advertising & media investment management; data investment management; public relations & public affairs; branding & identity; healthcare communications; digital, eCommerce and shopper marketing and specialist communications. The company employs over 205,000 people (including associates and investments) in over 3,000 offices across 112 countries. For more information, visit www.wpp.com.
WPP was named Holding Company of the Year at the 2016 Cannes Lions International Festival of Creativity for the sixth year running. WPP was also named, for the sixth consecutive year, the World's Most Effective Holding Company in the 2017 Effie Effectiveness Index, which recognizes the effectiveness of marketing communications. In 2017 WPP was recognised by Warc 100 as the World's Top Holding Company (third year running).
SOURCE Celtra
Related Links
http://www.celtra.com