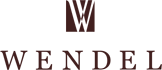 Cromology amends its banking terms
Wendel is pleased to announce that Cromology, one of Europe's leaders in decorative paints, has executed a bank amendment approved by nearly all of its lenders.
Cromology has amended the terms and conditions of its bank loans with a covenant reset. In so doing it has increased its financial flexibility and taken the steps necessary to pursue its plans for growth and development. As part of the transaction, Cromology has also increased drawdown capacity under its lines of credit by a total of €20 million. The cost of Cromology's debt will remain the same.
This transaction will make a positive contribution to long-term value creation at Cromology, which is majority-owned (87.3%) by Wendel.