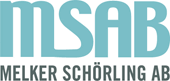 HEXPOL has completed the previously announced acquisition of the shares in McCann Plastics LLC from the McCann family. The company is specialized in niche thermoplastic compounds, with special focus on roto molding applications.
The acquisition is fully in line with HEXPOL's M&A strategy of acquisitions within polymer compounds. Furthermore, the acquisition complements our current operations in the US and strengthens our market position.
"The acquisition of McCann is fully in line with our growth strategy with acquisitions within polymer compounds and strengthens our market position in the US. We welcome all employees of McCann to the HEXPOL Group"
Georg Brunstam, CEO HEXPOL Group
"I am convinced that McCann Plastics with HEXPOL as owner will become even stronger. It will give the company and the employees more resources to grow with new markets and customers while at the same time, improve the production efficiency even further"
Michael McCann
During the last few years, McCann has invested substantially in capacity and technology to enable the company's further growth and to meet the increased demand of its products.
"McCann has a strong position within its market niche that complements and widens our customer offer. The company is well invested with high competence in specialized thermoplastic compounds. We are looking forward to continued growth with McCann being part of HEXPOL"
Jan Wikström, President HEXPOL Thermoplastic Compounding
McCann has during the last 12 months delivered sales of some 72 MUSD with a profitability level just below that of the HEXPOL Group. McCann has operations in two locations in Ohio, USA with some 100 employees in total. The main end customer segments are general industry, agriculture and the fast growth segment of specialized cooling boxes.
The acquisition price amounts to 120 MUSD on a cash and debt free basis and is funded by a combination of cash and existing bank facilities. All regulatory approvals and contractual terms for the transaction have been met and the acquisition has been completed. The business will be consolidated from 1 December.
For more information, please contact:
Peter Rosén, Deputy CEO and CFO
+46 (0)40 25 46 60
HEXPOL is a world-leading polymers group with strong global positions in advanced polymer compounds (Compounding), gaskets for plate heat exchangers (Gaskets), and plastic and rubber materials for truck and castor wheel applications (Wheels). Customers are primarily systems suppliers to the global automotive and engineering industry, construction industry, the energy, oil and gas sector, medical equipment manufacturers and OEM manufacturers of plate heat exchangers and forklifts. The Group is organised in two business areas, HEXPOL Compounding and HEXPOL Engineered Products. The HEXPOL Group's sales in 2021 amounted to 16,005 MSEK. The HEXPOL Group has approximately 5,100 employees in fourteen countries. Further information is available at www.hexpol.com.
This report has been prepared both in Swedish and English. In case of any divergence in the content of the two versions, the Swedish version shall have precedence.
Tags: