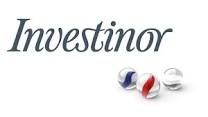 Investinor invests  2.5 million Euro in skitech startup Skioo Holding, which has Norwegian alpine ski champion Aksel Lund Svindal as one of its key shareholders.
Skioo offers an innovative ski pass app that lets skiers access a maximum of ski resorts with the same ski pass. No need to stand in line or book in advance, the skiers are automatically charged based on their use. The pay-per-use system connects skiers with ski resorts, as Skioo also collects valuable market data and enables significant cost savings for the skiing industry.
Skioos vision is to digitize the skiing market. There are currently 110 million active skiers in the world. They annually spend more than 5 billion Euro on ski passes, and another 15 billion Euro on related services such as purchase and rental of equipment, travel, food and drink etc.
Skioos solutions enables significant cost savings for skiing resorts , and generate valuable guest insights and market communication tools.
Alpine ski champion Aksel Lund Svindal has been an active owner in Skioo since 2015.
Says Aksel Lund Svindal:
"Skioo is a future-oriented solution that makes it easier for the customers to get out on the slopes. Along with the ski resorts we will also generate valuable customer insights and communicate in a better way. "
Says Bent Grøver, Investment Principal at Investinor:
"Ski resorts are not only competing with each other, but even Sony Playstation and weekend city breaks. Skioo provides the tools that the resorts need to get more people out skiing more often. I look forward to working with Skioo team and our competent fellow shareholders."
Skioo was founded in Switzerland in 2012 by the Gregory Barbezat and Yngve Tvedt (CEO of Norselab). The technology was initially developed and introduced in Switzerland, and the company now moves its headquartes to Oslo, Norway, as it rolls out its platform in other countries such as France, Austria, Italy and Norway.
In the recent financing round, Skioo raised a total of 5 million Euro from Investinor and the family office Canica. Post money the largest shareholders will be Canica, Investinor, Norselab, Gregory Barbezat, Gunnar Hvammen and Aksel Lund Svindal.
About Canica
Canica is one of the largest privately owned investment companies in Norway, and was founded by Stein Erik Hagen in 1985. The company has large holdings in companies such as Orkla, Jernia and Komplett, and a large real estate portfolio.
About Norselab
Norselab builds technology companies together with talented entrepreneurs. The company is established by Yngve Tvedt and Christian Lundvang, and has Aksel Lund Svindal as oneof its shareholders. Since its inception in 2012, the company has contributed to the development of more robust technology companies in Norway and internationally, where Skioo is one of these. Norselab is headquartered in Oslo, with operations in London, Washington D.C. and Palo Alto.