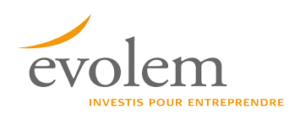 Lyon, Tuesday, January 15, 2019 – EVOLEM acquires a majority stake in the steel and textile temporary structures specialist called LAURALU.
Located in Saverdun (Ariège) and created in 1998, LAURALU supplies high quality space solutions to logistics operators and industries (SMEs, retailers and institutional and public authorities). Olivier Hohn, Spaciotempo's (GL Event business unit) former director, took over the company in 2014 with a view to initiate a radical change of the business model from sale to rental, but also to grow internationally through the opening of subsidiaries in United Kingdom and Spain.
LAURALU has established itself as a major player in the manufacturing and leasing of metal and textile structures with a turnover of more than 12 M€ in 2018. The rental offer appears today as an obvious solution for companies' modular and flexible needs.
With this deal Olivier Hohn wanted to back-up the company with a financial shareholder able to provide long-term support to drive future growth of the company and on which he could rely in order to realise buy and build operations, both in France and abroad.
« The entrepreneurial nature of the Family Office Evolem, the personality of the management team and its clearly expressed desire for external growth have totally convinced me of this choice despite strong interest of other French and international funds.
This operation should help the team build a major European player. »,
explain Olivier Hohn.
« Since the acquisition of LAURALU by Olivier Hohn in 2014, the Company has seen its turnover more than triple with a radical change of its business model offering better visibility on its activity. Olivier Hohn's experience in this market, his international profile as well as various expansion opportunities have convinced us.»,
testifies Sandrine Escaleira.
Intervenants de l'opération
Buyers : EVOLEM (François NOIR, Sandrine ESCALEIRA, Victor d'HEROUVILLE), SOFILARO (Christophe ROMEYER), Pierre ASSEO, MANAGERS, AUTRES
Legal advisors (buy-side) : ALCYA CONSEIL (Laurent SIMON, Sabine PRADES, Marion MENU)
Legal, social and fiscal due diligence : ALCYA CONSEIL (Laurent SIMON, Sabine PRADES, Marion MENU), CUATRE CASAS (Helene BAUS), STEVENS BOLTON (Nick ATKINS)
Financial Due Diligence : EIGHT ADVISORY (Xavier MESGUICH, Bilel DJEMMALI)
Senior debt : CREDIT AGRICOLE SUD MEDITERRANEE (Sebastien EPALZA, Didier HOCHET), CREDIT AGRICOLE TOULOUSE (Eric ESPIE, Franck ARMANDET, Philippe CHAMOULAUD)
Legal advisor (debt) : PACT AVOCATS (Benjamin DAHAN)
Sellers : MANAGERS, Pierre ASSEO
Legal advisor (vendor) : ALTIJ (Patrick NADRAULT)
M&A advisor (vendor): CAMBON PARTNERS (Guillaume TEBOUL, Philippe BACKES)
About Evolem
Evolem, is a French family office, created and 100% owned by an entrepreneur: Bruno ROUSSET (founder of April group). Evolem's investment approach is based on a long term strategic vision shared with the management, and no exit horizon in order to accompany the development of leading players in specific sectors.
In the context of majority transactions, Evolem invests in companies with sales between 10 M€ and 80 M€ and operating in niche markets, with the objective of growing small to intermediate size (100 M€ to 150 M€ in sales) through organic and external growth and increased international reach.
Having completed 44 add-ons operations including 11 abroad, Evolem has a solid experience in carrying out such transactions for its platforms, in the identification of potential targets, approach, negotiations and execution.
More information on : https://www.evolem.com/
Press contact :
Peggy DESOUTTER
peggy.desoutter@evolem.com
+33 (0)4 72 68 98 00
+33 (0)6 88 23 15 63