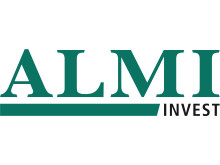 Almi Invest's portfolio companies ContentCentral in Umeå offers an online service that connects journalists and editors for the sale and distribution of articles and news. Now the company has brought in SEK 8.7 million from investors.
Content Central has since autumn 2014 helped the media house and freelance journalists in Sweden to sell and distribute editorial content. Over 3000 freelance journalists, writers and photographers are connected to the service and signed up thousands of articles, crosswords and images for sale.
The company has now developed into 8.7 million SEK in venture capital, most of which was from Fort Knox and Partners Invest North, part of Almi Invest. Together they have gone in with seven million by issuing new shares. Also converts the Silicon Valley-based VC company 500 Startups earlier paid convertible loan of 1.7 million of shares.
– It feels good to finish this round we have been working on for about ten months. Getting into Fort Knox and Partners Invest as local investors feel really good. They have financial muscle, good skills and have important contacts, but above all we will be able to work close to each other which is important in the phase where we are in. For it feels it is of course very exciting to get the 500 Startups to ownership, which can give us interesting inputs internationally, says Joachim Ljungquist, founder and CEO.
The media industry is under a lot of structural and currently employs over 50 percent of the world's journalists on a freelance basis. ContentCentral is a platform that simplifies deployment, rights and payment of editorial content.
– We have had dialogue regarding an investment in ContentCentral for a long time and it feels great to now be involved in bringing the business forward. The company has an interesting solution that can be an important part of the transformation that the media industry is going through right now. In addition, the platform, the economy in general, an increasingly important business model, says Henrik Wimelius, investment manager for digital business concepts at Fort Knox.
Right now developing the next generation of service with the new technology, which will be the company's first live version. In addition, work is underway in full swing for the establishment in the UK.
– I have had the privilege to follow the company since its inception and looks really potential to get out of the English-language market that is much larger than the Swedish. On the occasion of the international ambition included ContentCentral we want to be understood to be on the trip, says Lena Fridlund Forsgren, investment manager at Partner Invest North.
The investment will be used to increase resources for the development and for the establishment of new markets.
Operations are conducted through the company Syndigate AB, where Almi Invest is one of the partners.