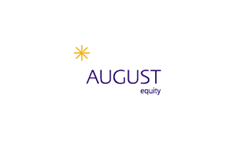 August Equity is pleased to confirm the appointment of David Lonsdale as its new Managing Partner. After nearly 15 years in the role, Philip Rattle will become Chairman of August Equity where he will focus his attention and experience on investment and portfolio related matters.
Following the announcement, David and Philip both commented:
David Lonsdale
"I am delighted to make this announcement today. This transition is something we have been operationally moving towards over the last year or so. The talent in our Partnership base is deeper and broader than ever and we believe now is the right time to finalise our plans ahead of closing our new Fund – AEP VI – later this year. 
"I would like to personally thank Phil for his leadership, guidance and friendship over the last 15 years which leaves August extremely well positioned in terms of track record and a very clear investment philosophy. 
"I look forward to leading the firm in the next phase of its growth and further harnessing the considerable people talent we have to take advantage of the market opportunity before us."
Philip Rattle
"Having been Managing Partner for 15 years and working closely alongside David for many years as friends and colleagues, I am delighted for him to take over as Managing Partner and have every confidence that he will lead August into further success in the future.
"In my new capacity as Chairman I will be using my 30+ years of private equity experience to focus more on our new and existing investments.  Through Chairing the Investment Committee I look forward to giving David and the team my uncensored and objective opinions and working with them to help take August to the next level." 
For any further information regarding this or other August Equity announcements please contact Daniel Venn (Daniel.venn@augustequity.com)
Both appointments are subject to regulatory approval and will take effect upon FCA consent.