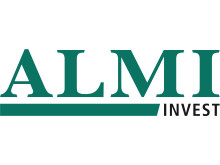 Almi Invest invests two million in start-up timber Stock Exchange, which has developed a digital marketplace for buying and selling wood in Sweden. In the issue of a total of 4.5 million is also participating privatinvesteraren Olof Hallrup.
The money will go to the development and marketing of the marketplace.
Wood Stock Exchange wants to make it easier for buyers and sellers of wood to find each other. Today there is no structured way to trade the timber without the seller often turn to established contacts and competitive bidding is not always sales among buyers.
This would change the Timber Exchange and has therefore built a digital marketplace to handle the timber business in a simple and transparent way. On www.virkesborsen.se to forest owners completely free easily and comparing quotes from various forestry companies to ensure the profitability of forestry.
– It is good for the seller, who can get better prices by reaching more potential customers. But it is also good for the buyer, who gets a better overview of what is available and can streamline their work significantly, says Erik Ydrén, Investment Manager at Almi Invest. The forest industry is currently being digitized, so the company is very timely.
This is the first digital marketplace for wood in Sweden. The vision is a more transparent and accessible timber market where all Swedish forest owners can make wise and business decisions in the sale of timber. A digital marketplace also provides timber buyers the opportunity to streamline their work and gain access to the timber.
– Wood Stock Exchange plays an important role in the interface between forest owners who want to do good business and timber buyers faced increasingly tough competition for wood, says Adam Aljaraidah, CEO and co-founder of Wood Stock Exchange. With Almi Invest and Olof Hallrup as investors, we both capital and expertise is of great importance for our development. Now we have all the prerequisites to make the Swedish timber market more transparent and accessible to all players. A more efficient timber market to enable new products from the forest that can replace fossil-based raw materials.
In connection with the investment goes Sven Wird, many years of technical director at Holmen and Board of Sveaskog, in as Chairman of the Timber Exchange