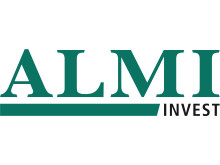 Almi Invest invests SEK 2 million in Medtech PressCise, which is developing a new type of effective compression bandages, in a share issue totaling 4.8 million. The capital will be used to market launch, both in Sweden and internationally.
Compression bandages are used to treat chronic bone diseases such as varicose veins, leg ulcers and edema. Today's bandages have different pressures depending on who winds, since different people different hard winds. This can delay the processing when the correct pressure is essential for optimal healing.
With PressCises unique patented technology for compression products are guaranteed the right pressure no matter who winds bandage. This provides a safer and more effective treatment, while health care costs will be lower because it takes fewer products and the total treatment time is shorter.
– The market for compression products are great and today's products have clear limitations for both the patient and for the economy, says Mats Enegren, investment manager at Almi Invest. We see a clear demand for better products and believe that PressCise are well positioned to become a leading supplier.
PressCise is now about to launch its bandages and additional so-called patches under the brand Lundatex. The company is also developing a compression stocking.
– Our focus is to reach the market, says PressCises CEO Andreas Nilsson. With several strong investor capital and expertise in the back will enable us to accelerate our development.