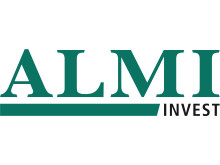 Almi Invest and Walerud Ventures is investing a total of SEK 7.5 million in the company Ekkono Solutions, which provides a solution for machine learning for the Internet of Things – Internet of Things (IoT).
The trend of the Internet of Things and the increasing amount of connected objects, in everything from our homes to the industry, means great potential but also challenges with an extensive amount of raw data from all of these items. Ekkonos solution based on seven years of research in predictive modeling. Their product create smarter data management and offers solutions to the challenge of extensive data sets.
Ekkono provides a software solution for Edge Computing, a software to manage the amount of data and improve the potential of the IoT. The product enables advanced machine learning for connected objects, making them smarter and more efficient. The target audience of the product ranges from everything from the consumer market, the industrial IoT, including process industries, automotive, energy and building.
Therefore, now Almi Invest and Walerud Ventures has chosen to invest in Ekkono.
"Ekkono has the potential to be how big any time," said Jane Walerud. "They are at the intersection of two major areas, machine learning and IoT, and address an international market. Ekkono has the potential to become a part of the Swedish engineering miracle, and fits well with Walerud Ventures."
"The area is hot and there are a number of Swedish companies in the forefront, says Christian Björkman, Invest Manager at Almi Invest." Ekkono the combination of a team with a proven track record and a promising technology. This can revolutionize and simplify the way that machine learning and IoT application in the future.
Jon Lindén (pictured above), president of Ekkono notes that the investment is a major step for the company:
"It's a great combination of investors, Jane, Josee and Caroline Walerud is Sweden's top technology investors and understand our business. Almi Invest adds further credibility and is an experienced and professional investors."