Lucerne – Embassy Jewel AG, headquartered in Lucerne, Switzerland, has gained an additional shareholder, Bregal Unternehmerkapital, serving as a partner for growth. The agreement was signed by the owners – Petra and Patrik König. With the support of Bregal Unternehmerkapital, the luxury watch retail company plans to foster further growth. Both parties agreed to not publish further details about the transaction.
Since its foundation in 1970 by Kurt König, the father of Petra and Patrik König, Embassy has grown steadily. Today, Embassy is one of the five largest retail companies in the Swiss watch market and stands for the highest level of quality for more than 45 years. The highly respected and well-known retail company operates five attractively located stores in Lucerne, the Swiss watch capital, as well as one shop in St. Moritz. With watches and jewelry from distinguished brands as Breguet, Blancpain, Cartier, Jaeger-LeCoultre, IWC, Vacheron Constantin, Audemars Piguet, Breitling and numerous other manufacturers, Embassy appeals to an international clientele. Consequently, Embassy continues to thrive on Lucerne's tourism strategy, which follows highest quality standards and class. Together, the shareholders plan further investments to strengthen the branch network and the in-store infrastructure to implement an even more personalized customer approach.
"We are delighted to join forces with the ideal partner Bregal Unternehmerkapital who will support our long-term growth plans" notes Embassy's CEO Patrik König. "Bregal itself is part of a family-owned retail business, which has grown over generations and shares our values." Florian Schick, Managing Partner of Bregal Unternehmerkapital GmbH, adds: "Our philosophy is to collaboratively support the growth of small and medium-sized enterprises with capital, know-how and an international network of experts to create lasting values in a long-term relationship. Embassy has exceptional growth potential in an attractive market. We are glad to support Embassy's next growth phase together with Petra and Patrik König and the current management team around Patrick Frischknecht."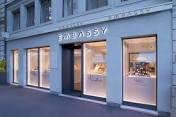 The stake in Embassy represents the sixth investment by the current fund, and is the second transaction in Switzerland. At the end of 2016, Bregal had acquired a majority stake in Kunststoff Schwanden AG, a supplier of complex plastic parts and components in the Swiss canton of Glarus as part of a succession arrangement.
About Bregal Unternehmerkapital
Bregal is part of a family-owned business that has been built up over generations. Its investment activity is free of institutional constraints, based on long-term commitment and independent of developments in the financial markets. Bregal identifies companies, with strong management teams, that are regarded as market leaders or "hidden champions" in their particular segment. Flexible financing and transaction structures enable Bregal to acquire both minority and majority stakes. In doing so, Bregal is also able to handle complex industry spin-offs, management buy-outs and succession situations in a sensitive, non-dogmatic manner. Bregal aims to help companies to achieve a sustained improvement in sales and profitability, and provides them with capital, proven financial expertise and access to a broad network of entrepreneurs and industry experts.
Media contact
IRA WÜLFING KOMMUNIKATION GmbH
Florian Bergmann Ohmstr. 1, D-80802 Munich
Tel. +49 89 2000 30-30
E-Mail bregal@wuelfing-kommunikation.de
www.wuelfing-kommunikation.de/en