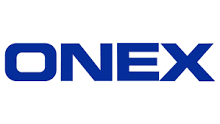 Toronto, Canada, May 25, 2023 – Onex Corporation ("Onex") (TSX: ONEX) today announced the sale of approximately 8.2 million shares of Class A Common Stock of Ryan Specialty Holdings, Inc. ("Ryan Specialty") (NYSE: RYAN). Ryan Specialty is a service provider of specialty products and solutions for insurance brokers, agents, and carriers.
Proceeds to Onex from this transaction were approximately $355 million. Onex continues to hold approximately 4.1 million shares of Class A Common Stock of Ryan Specialty.
A registration statement on Form S-3 was filed with the Securities and Exchange Commission ("SEC") and became effective upon filing. This press release shall not constitute an offer to sell or a solicitation of an offer to buy these securities, nor shall there be any sale of these securities in any state or jurisdiction in which such an offer, solicitation or sale would be unlawful prior to registration or qualification under the securities laws of any such state or jurisdiction.
About Onex
Onex is an investor and asset manager that invests capital on behalf of Onex shareholders and clients across the globe. Formed in 1984, we have a long track record of creating value for our clients and shareholders. Onex' two primary businesses are Private Equity and Credit. In Private Equity, we raise funds from third-party investors, or limited partners, and invest them, along with Onex' own investing capital, through the funds of our private equity platforms, Onex Partners and ONCAP. Similarly, in Credit, we raise and invest capital across several private credit, public credit and public equity strategies. Our investors include a broad range of global clients, including public and private pension plans, sovereign wealth funds, insurance companies and family offices. In total, Onex has $51.1 billion in assets under management, of which $7.8 billion is Onex' own investing capital. With offices in Toronto, New York, New Jersey, Boston and London, Onex and its experienced management teams are collectively the largest investors across Onex' platforms.
Onex is listed on the Toronto Stock Exchange under the symbol ONEX. For more information on Onex, visit its website at www.onex.com. Onex' security filings can also be accessed at www.sedar.com.
Forward-Looking Statements
This press release may contain, without limitation, statements concerning possible or assumed future operations, performance or results preceded by, followed by or that include words such as "believes", "expects", "potential", "anticipates", "estimates", "intends", "plans" and words of similar connotation, which would constitute forward-looking statements. Forward-looking statements are not guarantees. The reader should not place undue reliance on forward-looking statements and information because they involve significant and diverse risks and uncertainties that may cause actual operations, performance or results to be materially different from those indicated in these forward-looking statements. Except as may be required by Canadian securities law, Onex is under no obligation to update any forward-looking statements contained herein should material facts change due to new information, future events or other factors. These cautionary statements expressly qualify all forward-looking statements in this press release.
For Further Information:
Onex
Jill Homenuk
Managing Director – Shareholder
Relations and Communications
Tel: +1 416.362.7711
Zev Korman
Vice President, Shareholder
Relations and Communications
Tel: +1 416.362.7711