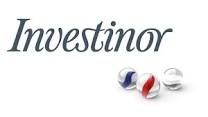 Investor, author, entrepreneur, and China expert Chris Rynning joins Investinor as industrial advisor.
Investinor keeps adding to its network of industrial advisors. These are experienced industry experts who support Investinor in identifying and evaluating investment opportunities, as well as serve on the portfolio companies´ Board of directors.
In some cases our advisors also co-invest with Investinor in portfolio companies. At management's request they can also assist portfolio companies in their development.
Chris Rynning, the latest member of Investinor's advisor team, is CEO of Staur Asset Management.
Chris is a resident of China, having invested throughout Asia from his base in Beijing and Tokyo. He is a board member and has been Chairman of Norway Business Association China, in addition to lecturing in macro economics and private equity at Trondheim School of Business (HIST).
Chris was the CEO of LSE listed Origo Partners for 8 years, after managing a PWC invested technology fund in Beijing. He was previously Regional Director of Elkem ASA and has broad transaction experience between Asia/China and Norway.
Chris published the book "Little Streams, Big River" in 2014 about China's economic and environmental challenges. He also has broad experience as founder and investor of early stage growth companies in Norway and Europe.
Chris Rynning graduated as Master of Science in Business from ESSEC, Paris, and holds an MBA in Finance from University of Chicago, USA.