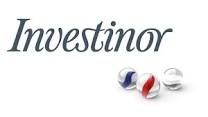 The Board of Investinor and Geir Ove Kjesbu have together decided that Kjesbu resigns from his position as CEO of the company.
CFO Tor Helmersen takes over as acting CEO of the company.
Says Chairman of Investinor Thomas Falck:
«The board and Geir Ove Kjesbu agree that, after nearly eight years in as CEO, the time is right for a change of leadership in Investinor. The company has been led by Kjesbu since its establishment in 2008, and during this period it has developed from a vision to a respected and professional organisation. The Board would like to thank Geir Ove Kjesbu for his decisive contribution to building Investinor into significant player in the Norwegian market for venture and growth capital.»
Says Geir Ove Kjesbu:
«It has been fantastic to lead such a great team with professional and dedicated colleagues.»
Says acting CEO at Investinor Tor Helmersen:
«Mr. Kjesbu's resignation will have no consequences for Investinor's portfolio companies, co-investors and other stakeholders. The company's strategy remains unchanged, our business operations continues as before, based on the position and structural capital we have built since 2008.»
The Board of Investinor has initiated search for Geir Ove Kjesbu's successor as CEO at Investinor.
For questions, please contact:
Chairman Thomas Falck: + 47 474 00 520
Geir Ove Kjesbu: +47 905 59 404
Acting CEO at Investinor Tor Helmersen: +47 930 69 566