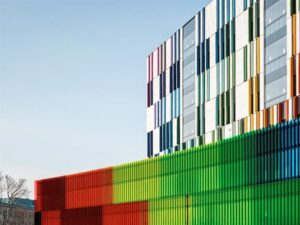 21 June 2022 at 12:00 EEST
CapMan Buyout invests in award-winning Finnish architectural firm SARC Architects
CapMan Buyout has agreed to invest in award-winning Finnish architectural firm SARC Architects. SARC is one of the leading architectural firms in Finland, specialised in demanding architectural projects and the development of urban environments. CapMan Buyout aims to support SARC in further developing and growing their business. The current owners of the firm, Sarlotta Narjus and Antti-Matti Siikala, will continue as significant shareholders in the company, while SARC also appoints new employee partners.
SARC Architects, founded in 1965, is specialised in the design and planning of both new builds and renovations of office, retail, and residential real estate. The firm also has competence and experience in designing hospitals, laboratories, universities, museums, and public spaces. SARC has received multiple awards for their work in Finland and abroad. For instance, the firm was awarded the Finlandia architecture prize for their design of the new children's hospital in Helsinki. The firm employs around 80 employees.
"We are very impressed by the development of SARC and its people. Over the years, the team has built an admired and ambitious firm with several long-term client relationships and very competent personnel. The company's current position and competitive advantages are an excellent foundation for future development, and we are pleased to support the team in their aspirations towards becoming an even more prominent player in their field." says, Antti Karppinen, Partner at CapMan Buyout.
"I am very satisfied with this next step on our firm's journey. CapMans' investment will provide us with stronger resources for continuous development over the coming years, and as such grant us better opportunities to focus on our core work, architecture. Going forward, as over the past 50 years, we continue to feel a sense of responsibility towards our clients and society to confront architectural and societal challenges with ambition and expertise – while listening to our clients," comments, Sarlotta Narjus, CEO at SARC.
In the transaction, CapMan acquires a majority equity share in the company. The company's founding partners remain significant shareholders and the company appoints three current employees as partners. The investment is made from the CapMan Buyout XI fund, which was established in 2019, and is the fund's fifth investment. The transaction is expected to close on 30 June 2022.
The CapMan Buyout team includes investment professionals working in Helsinki and Stockholm. The funds managed by CapMan Buyout invest in mid-sized, unlisted companies in the Nordic countries.
For more information, please contact:
Antti Karppinen, Partner, CapMan Buyout, +358 50 534 0614
Sarlotta Narjus, CEO and Partner, SARC Architects, +358 40 502 0351
Antti-Matti Siikala, Partner, SARC Architects, +358 40 580 5650
About CapMan
CapMan is a leading Nordic private asset expert with an active approach to value creation. As one of the private equity pioneers in the Nordics we have built value in unlisted businesses, real estate, and infrastructure for over three decades. With over to €4.7 billion in assets under management, our objective is to provide attractive returns and innovative solutions to investors. We are dedicated to set science-based targets to reduce our greenhouse gas emissions in line with the Paris Agreement. We have a broad presence in the unlisted market through our local and specialised teams. Our investment strategies cover minority and majority investments in portfolio companies and real estate, and infrastructure assets. We also provide wealth management solutions. Our service business includes procurement and analysis, reporting and back office services. Altogether, CapMan employs approximately 180 professionals in Helsinki, Stockholm, Copenhagen, Oslo, London and Luxembourg. We are listed on Nasdaq Helsinki since 2001. Read more at www.capman.com.
About SARC
SARC is a Finnish architectural firm with over 50 years of wide-ranging and diverse experience within the different fields of architectural planning and design. SARC designs prominent urban and functionally challenging new buildings and renovation projects. Besides office, retail and residential projects, we design and plan hospital, university and public buildings as well as laboratories and museums. Demanding renovation projects, changes in use and development projects for protected sites and investment properties are our strengths. Many of our buildings have started with broader urban and town planning projects. SARC employs over 80 architecture professionals.
In the picture: The New Children's Hospital